He knew he had a passion for working out, so he decided to pursue a career in fitness. Setting out to learn as much as possible, Juan earned his Personal Trainer Certification as well as spin, kickboxing and body sculpting certifications. He has dedicated the last 20 years of his life developing a successful career in fitness.
Juan's trajectory reads like an evolving history of fitness. He calls his starting point in the 90s as his "meathead gym" days. An exciting time for fitness, the 90s ushered in a rising popularity of health and wellness due to advancements in technology and medical research that revealed a correlation between a healthy lifestyle and healthy body.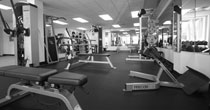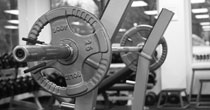 The field was exploding and Juan built up his knowledge and client base at the former Gold's Gym. He fell in love with the business and learned to appreciate the finer points of customer service from greeting clients to providing a rigorous and results-oriented workout.
The new stuff is the old stuff - pushups, pull-ups, sit-ups...
Undaunted by the proliferation of gyms in recent years, Studio Strength's mission remains constant - which is to provide personalized training instruction to reach clients' fitness and athletic goals. In an ever changing industry, where a new fad is touted on a daily basis, Juan is a purist who likes to keep it simple. Constantly on top of his game, he nevertheless believes in the values of the basics.
According to Juan, gym class was not that far off. He believes in the value of body weight and free weight movements. Though he believes machines have their place in workouts, a dependence on them takes away from the core.
Building strength is the key
Juan is on a mission to dispel the idea that weight training builds bulk. A successful fitness program features both interval training for a healthy heart and weight training to build strength and lean muscle mass.
He's proud to provide his clients with customized fitness programs focused on free weight and body weight training.