I'm not necessarily one of those people who wake up looking forward to exercise. I look forward to the newspaper and coffee, the elixir that keeps me going. I like to enjoy the first cup with breakfast and the second cup content knowing that the two beings, who claim they are my children but have morphed into hormones on legs, are gone. Then the dog has to be fed and I have to convince him that his dish which gleams brightly does not harbor a dog that looks just like him. He may not be smart but at least he won't morph into a barking hormone. Alas, there's tending to work and the terror of having to repeat the same chores day after day which turns my routine into a version of the movie, "Groundhog Day." It's then that I say, "If something's going to stay the same, please let it be my waistline!"
It's not that I've ignored diet and exercise. I've joined gyms, starting out with a new zest for vigor until I get bored and either drop out or place my membership on hold. Then I do what many of us do, I walk or go on the treadmill until I realize that doing the same thing has netted the same results which is basically nothing.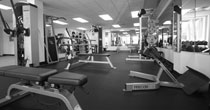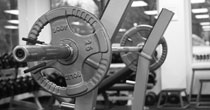 Walking on the treadmill with an occasional spurt of running can be considered exercise but it's like using salt without pepper which is why I decided to try personal training. I've always considered resistance training for those more experienced in the fitness world.
Truth is, a neighborhood child once compared, a much younger me, to Olive Oyl. I'm talking about Popeye, the sailor man's girlfriend who sported a very untoned body. After two children, I may not be a dead ringer for Olive Oyl but I'm pretty sure we were both passed over in the strength department.
My consultation included measurements and a hand held device that read my body fat. Good to know I can now order from some of those pesky catalogs that sport measurement lists! Christine, my personal trainer, also asked me about my health and medical background. We discussed goals and eating habits. She then asked me to perform some basic push-ups and pull-ups to determine my level of fitness.
I signed on the dotted line, a soldier in the war against my declining muscle mass. Stay tuned and see how I do!